WE DISCOVERED THE SECRET OF ALLERGIES AND CAN HELP YOU ENJOY THE OUTDOORS AND YOUR PETS ALL YEAR LONG
ALLERPOPS ARE NUTRITIONAL LOLLIPOPS WITH FDA APPROVED INGREDIENTS THAT CAN HELP YOU MAINTAIN LONG-TERM NASAL/SINUS HEALTH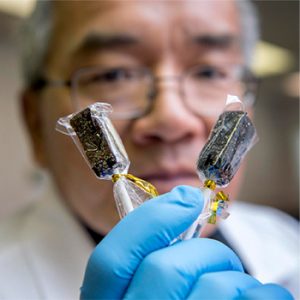 Meet Dr. Shunsheng (Cliff) Han, developer of AllerPops
Cliff worked as a biologist at Los Alamos National Laboratory where he participated in the Human Genome Project. Prior to that, he got his Ph.D. from Fudan University and was trained as a medical doctor where he worked in a hospital for four years.
The allergy relief idea first began with Dr. Han's son who suffered from allergies. As a medical doctor, a biologist, and of course, a father, he wanted to provide a solution. He got more serious about finding a remedy when he developed his own case of allergies in 2014.
His research began by collecting samples and data beginning with his family's allergic reactions. After three years of intense studies, the secret behind the cause of most seasonal and long-term allergic reactions was discovered. What he found is that oral probiotic deficiency, or the lack of good bacteria in the mouth and nasal cavities, cause allergies. When these good bacteria are not present in sufficient levels, the immune system becomes oversensitive and allergies explodes. Shortly after this discovery, AllerPops were developed. This remedy includes FDA approved all-natural ingredients that encourage the growth of these good bacteria.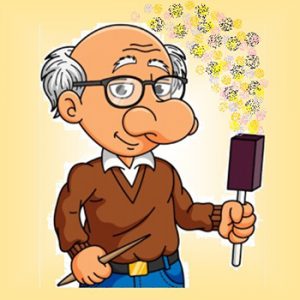 PROFESSOR NOSE KNOWS . . . everything you ever wanted to know about allergies!
1) Did you know there are some good bacteria in your mouth and when they're not present you're more susceptible to the discomforts of allergens like pollen, dust and pet dander?
2) You should avoid using oral antibiotics and gargling with mouthwash or hydrogen peroxide for the best results with AllerPops.
3) Cat dander (microscopic bits of skin and saliva) is the most problematic among pet-related allergy triggers.
4) Trees are the first plants to produce pollen each spring. Depending on where you live, tree pollen season can start in late winter or early spring.
5) Americans spend 90% of their time indoors. The percentage of indoor pollutants in U.S. homes versus outdoor pollution is 2 to 5 times higher.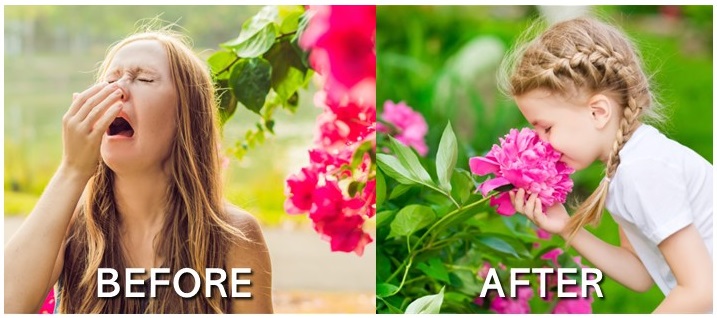 Don't settle for masking the symptoms like all other remedies. Build yourself up with AllerPops for long-lasting health.
LISTEN TO What some of our happy customers are saying:
READ WHAT MORE HAPPY CUSTOMERS ARE SAYING:
Allergies are a common disease that's become an epidemic in the last 30-50 years. Currently, it impacts 10-30% of the human population around the world. There are no known cures and all current remedies only provide temporary relief of the symptoms with significant side effects. AllerPops were developed after three years of intense study and research by Dr. Cliff Han, resulting in a patented product and the only one available today which helps to sustain oral probiotics, resulting in lasting nasal/sinus health with almost no side effects.
I have taken many natural and prescribed medications for my year-long allergies since I was a child. I looked at this product with great skepticism when I saw it on the news but was willing to try anything. By the second day of taking them I stopped using my prescribed medications and felt fine. I was dumbfounded. I continued the AllerPops as directed and am now allergy free after one month.
When I first tried AllerPops, I had a fever. I don't like the idea of taking antihistamines regularly and I determined my allergies were a real problem, so I tried them again. Much to my surprise, no fever and my allergies disappeared. I would recommend trying this product.
I purchased AllerPops for my 13-year-old son with autism who has a problem taking any medications. The fact that they are a lollipop caught my eye. He went from a major running nose and hacking cough to nothing after the first pop. I decided to get some for myself and am astounded by how well they are working. They are a Godsend for my son and me.
I suffer greatly from Juniper pollen allergies. I followed the instructions and had two suckers over three days. All symptoms stopped after the first sucker. For me, it was/is truly a miracle!
I'm really glad to have found a natural way to help alleviate my allergies. I noticed a change after taking two AllerPops. I was taking Benadryl every night and something else during the day – now I'm not taking anything. If you use them correctly, the pops don't get rid of your allergies for a day, but a season. I told my dad, who has horrible allergies, and he got his own box. So far, they are working great for him.
INSTRUCTIONS FOR USING ALLERPOPS FOR THE BEST RESULTS