Breathe Easily All Year Long With Our Breakthrough Innovation
We invented AllerPops (US Pat No._9,795,579) after a three-year study on allergies and oral microbiome. This innovative prebiotic lollipop promotes the probiotics in the airway that helps to support a balanced immune system around the respiratory tract. As a result, the user will breathe more easily throughout the year, indoors or outdoors, with a dog or cat. And it is perfect for kids and adults.
We invite you to join thousands of happy AllerPop users and get your freedom back. View some of the videos and read their testimonials below.
You will be free indeed with AllerPops, no matter if pollen is in the air or when your pets hug you. And we are so sure that you'll enjoy the results, AllerPops comes with a worry-free 90-day money-back guarantee if you are not completely satisfied.*
CLEAR, BRIGHT AND ENERGIZED WITH ALL-NATURAL PREBIOTIC SUPPLEMENTS
AllerPops are made with all-natural FDA approved food ingredients. Therefore, they cause almost no side effects and are non-drowsy. Great for kids and adults.
What to Expect: Most (4/5) people need to take 1-6 pops within 1-11 days to get satisfying results. Take one pop every other day. Follow the instruction for the best results.
Continuous use of AllerPops is NOT necessary to maintain a satisfying result that may last for weeks, months, or years. Individual microbial structure, personal oral hygiene, antibiotic usage, and specific food may extend or shorten the duration of the results. please check the science and FAQ pages for relevant information. The longest one we heard from our customers is two years. AllerPops have been on the market for a little more than two years.
Who should NOT use: pregnant women, people with infection in the airway or head/neck area, with a compromised immune system, or allergic to any of the ingredients.
Satisfaction is guaranteed.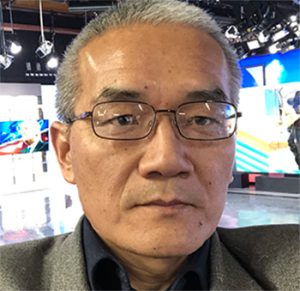 Meet Dr. Shunsheng (Cliff) Han
Inventor of AllerPops
Dr. Han, a former physician, is a biologist with 30 years of experience.
The allergy relief idea first began with Dr. Han's son who suffered from allergies. Then he developed allergies himself in 2014.  Eventually, his sudden and severe suffering from allergies jumpstarted his study on allergic rhinitis.
After three years of intense studies, Dr. Han discovered the cause of his allergies. What he found is that the lack of good bacteria in his mouth and nasal cavities causes allergies. When these probiotics are not present at sufficient levels, the immune system becomes oversensitive and allergies explode.
Shortly after this discovery, Dr. Han invented AllerPops and successfully ended his family's suffering from allergies. Now, his goal is to help the many allergy sufferers throughout the world achieve the same lasting relief.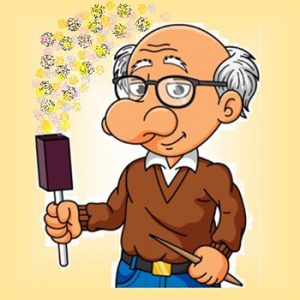 Professor Nose Knows
A Lot About Allergies
First, pollen, pet dander, mold, and dust mites are not the reason humans have allergies.
Second, the cause of allergies is the oversensitive immune system.
Third, probiotics or good bacteria in the airway send messages to the immune system and make it less sensitive.
Fourth, the airway microbiota starts in the mouth. And, it is continuously reseeded by the bacteria in the oral cavity during the processes of breathing, eating, and talking.
Finally, a healthy oral microbiota with sufficient probiotics will sustain a healthy airway resulting in easy breathing.
Professor Nose Knows AllerPops Can Help You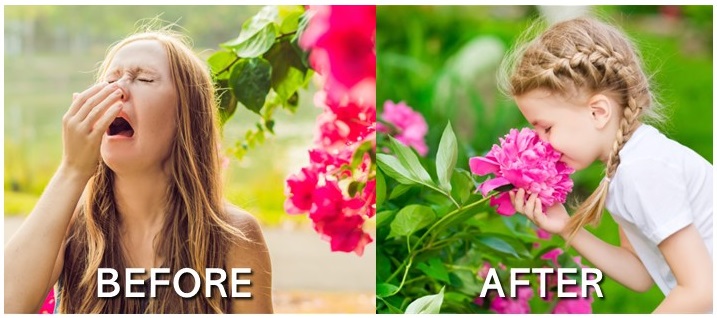 Do not settle with masking your symptoms like other remedies. Instead, build yourself up with AllerPops for lasting health.
LISTEN TO What some of our happy customers are saying (real customers):
READ WHAT MORE HAPPY CUSTOMERS ARE SAYING:
I have taken many natural and prescribed medications for my year-long allergies since I was a child. I looked at this product with great skepticism when I saw it on the news but was willing to try anything. By the second day of taking them I stopped using my prescribed medications and felt fine. I was dumbfounded. I continued the AllerPops as directed and am now allergy free after one month.
When I first tried AllerPops, I had a fever. I don't like the idea of taking antihistamines regularly and I determined my allergies were a real problem, so I tried them again. Much to my surprise, no fever and my allergies disappeared. I would recommend trying this product.
Purchased AllerPops for my 13-year-old son with autism who has a problem taking any medications. The fact that they are a lollipop caught my eye. He went from a major running nose and hacking cough to nothing after the first pop. Then, I decided to get some for myself and am astounded by how well they are working. They are a Godsend for my son and me.
I suffer greatly from Juniper pollen allergies. I followed the instructions and had two suckers over three days. Surprisingly, all symptoms stopped after the first sucker. For me, it was/is truly a miracle!
I'm really glad to have found a natural way to help alleviate my allergies. I noticed a change after taking two AllerPops. I was taking Benadryl every night and something else during the day. But now I'm not taking anything. If you use them correctly, the pops don't get rid of your allergies for a day, but a season. I told my dad, who has horrible allergies, and he got his own box. So far, they are working great for him.